Voices of Espejos de Aztlán: Listening to Chicana/o Culture, History, and Political Mobilization in New Mexico
At the age of four, my family moved away from the city. Instead of growing up in the urban South Broadway barrio of San José, in Albuquerque, New Mexico, my family settled in the rural eastside of Los Lunas. From asphalt to dirt, my childhood was spent in a fairly undeveloped landscape. Living in this area of New Mexico, I never realized how different my childhood experience was in comparison to my grandparents, parents, and brothers who lived for ten years or more in the neighborhood of San José. Today, Albuquerque's South Broadway area still clings to its past as gentrification slowly sweeps through its streets. Denied access to adequate schools, medical treatment, and housing, with the addition of discriminatory policing, I realized this barrio was, and still is, plagued by inequities fought against in El Movimiento (i.e. the Chicano Movement).¹ This is not to say Chicana/o activist efforts went unfelt in the state; rather, I bring up this personal history to express the work done during civil rights movements is still incomplete.
As a continuation of my own growing knowledge of New Mexico, I joined the NMPBS Public Media Digitization Project to continue learning about the state's late-twentieth century history. Working with recorded visual and audio media, the material I have viewed and listened to since January will unquestionably open up new research pathways for scholars of New Mexico art, culture, history, politics, and economics. One particular series I am thrilled to share with researchers and general audiences is Espejos de Aztlán.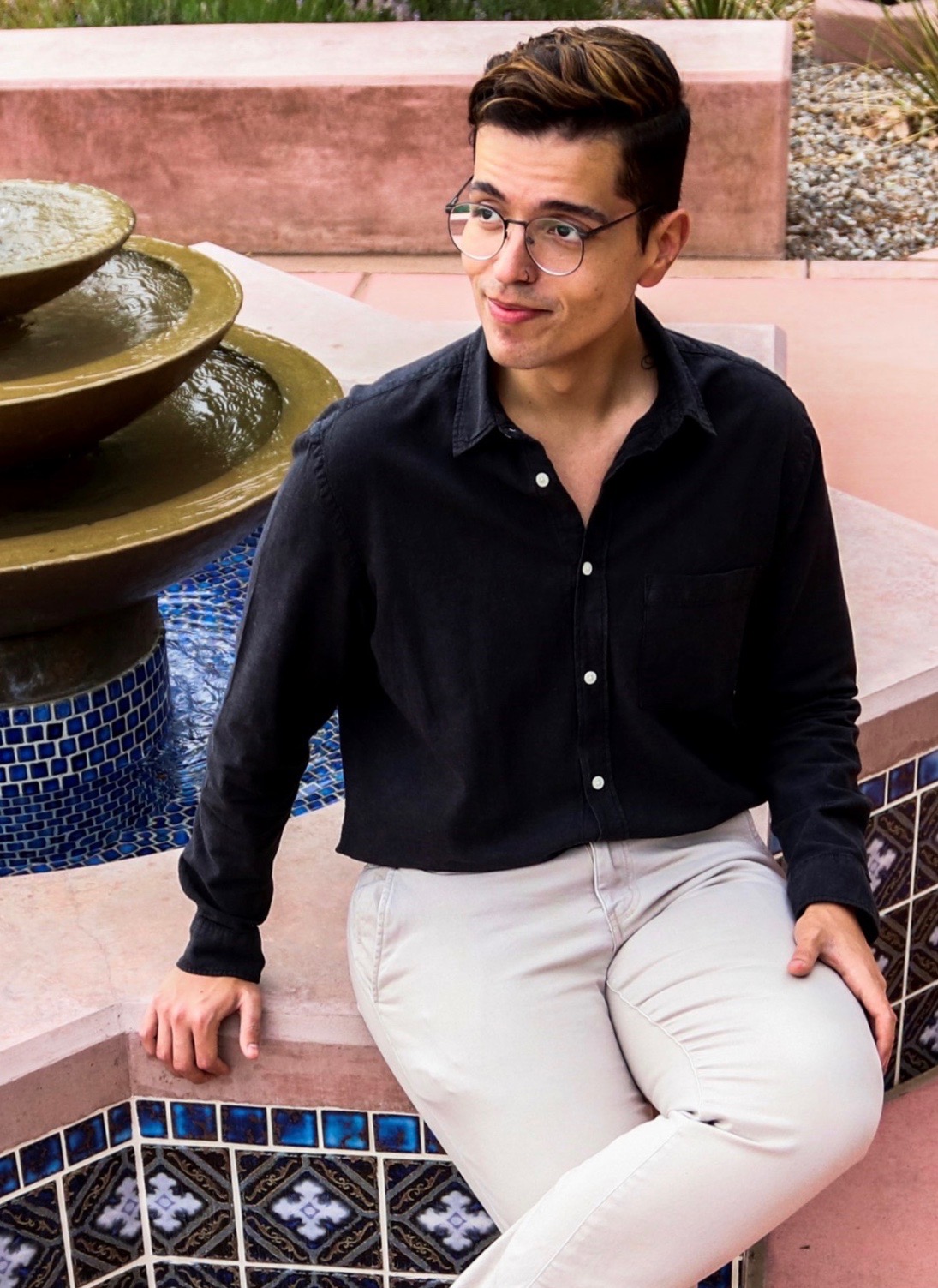 Project Fellow, David P. Saiz
Master of Art in Art History with Minor in Museum Studies, University of New Mexico, 2021 Graduate.
Espejos de Aztlán
As KUNM's longest-running program, Espejos de Aztlán (Spanish for "Mirrors of Aztlán") was, and still is, a continuation of Chicana/o and Latina/o resistance and visibility. Created by longtime host Cecilio García-Camarillo (born Laredo, Texas 1943–2002 Albuquerque, New Mexico), the inception of Espejos de Aztlán was directly responsive to social inequities experienced in the United States.² Beginning in the midst of the Chicano Movement, Espejos contributed to the fight against racist and classist injustices in the ways it made critical information and discussions accessible to people across the state of New Mexico. Adding to this, Espejos became one of very few bilingual resources available to Spanish-speaking communities in the state.
Recorded in Albuquerque, Espejos celebrates Chicana/o and Latina/o communities and experiences on a local and international level. Originally from Laredo, Texas, García-Camarillo came to New Mexico in 1977 bringing with him a need to make visible the people, art, literature, and voices of "la raza." Understanding the complexity and interconnectedness of Latina/o/x communities, García-Camarillo envisioned this radio show to be a nexus for social, cultural, and civil rights issues. It encompasses a large swath of Latina/o/x experience in the Southwestern United States, Mexico, Central America, Caribbean, and South America. My initial interest in the show developed out of my curiosity of its title. Its reference to "Aztlán" and use of Spanish indicated to me an overtly political position. The concept of Aztlán became a reclamation of indigenous roots, a challenge to (U.S.) imperialism and nativism, a source of cultural nationalism, and a claim for an equal social existence.³ Although Aztlán was typically focused on the Mexican-American experience in the United States, García-Camarillo knew that this historical and cultural declaration went beyond geographic and ethnic lines.
Espejos brought into conversation various guests like art historian Shifra Goldman, New Mexican authors Rudolfo Anaya and Enrique Lamadrid, Chicano activist Raymundo "Tigre" Pérez, and various members of La Compañía De Teatro de Albuquerque. Other guests included emerging scholars and researchers from the University of New Mexico, local school children, emerging authors and poets, and refugees from places like Central America and Chile. Espejos became an opportunity to reflect on the issues that make Latina/o/x communities similar and, most importantly, different.
This radio series carves out a greater understanding of where New Mexico fits in U.S. culture and history. Often rendered peripheral, New Mexican Chicana/o mobilization, social justice work, and creative expression is often overlooked or minimized in broader discussions in the U.S. García-Camarillo did amazing work finding guests that contextualized New Mexico both inside and outside of its own borders. Considering the various levels of marginalization at play during U.S. civil rights movements, I wanted to highlight guests on Espejos who are women.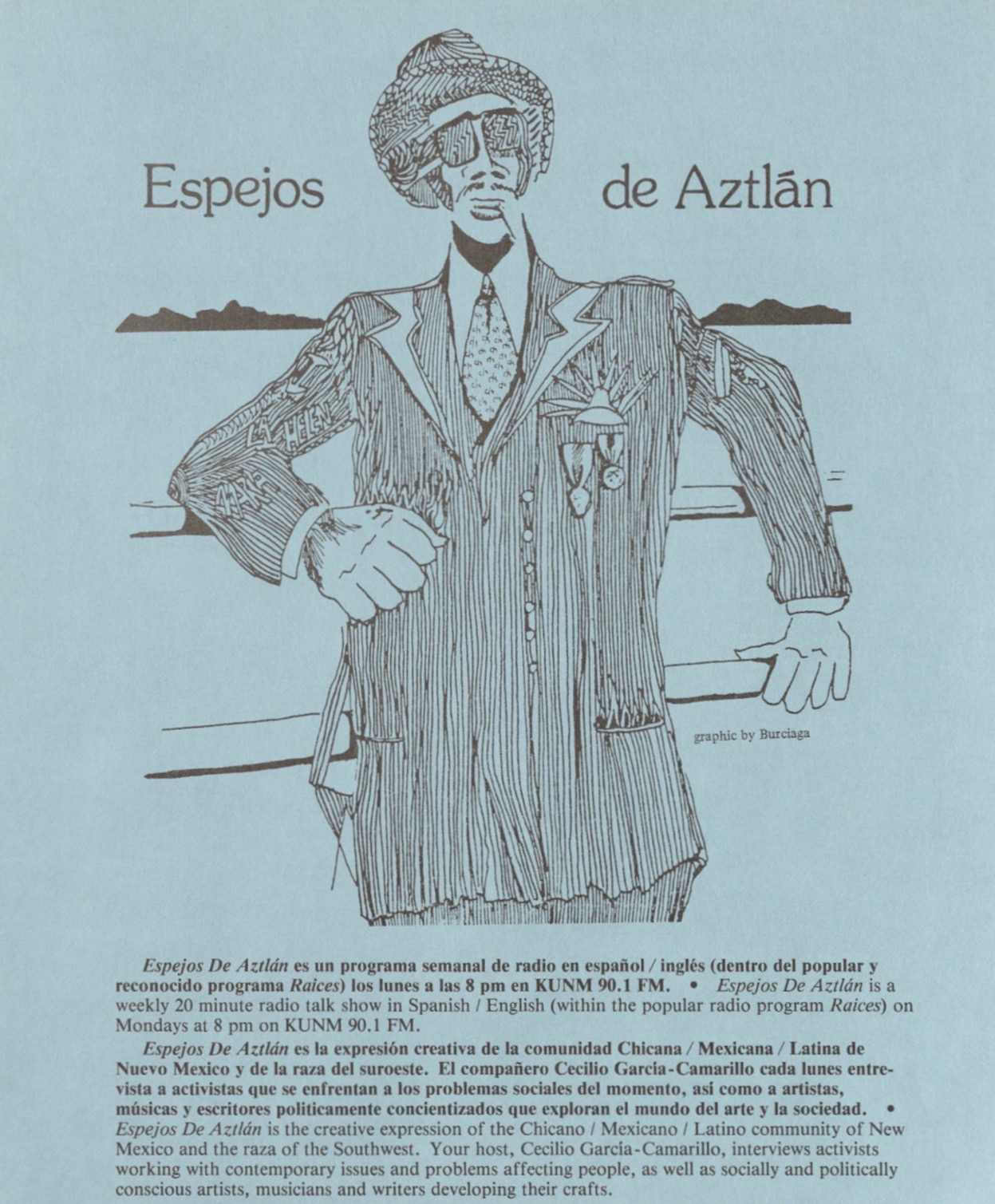 Espejos de Aztlán - Raices (KUNM)
Pamphlet, 2001, MSS 755 BC, Box 7, Folder 20, Cecilio García-Camarillo Papers, 1970–2002, Center for Southwest Research, Albuquerque, New Mexico.
Chicana/o Art In New Mexico
As an art historian, I was thrilled to see Dr. Shifra Goldman incorporated into the voices of Espejos. Aware of the still present absence of Chicano (and Chicana) art made in New Mexico from the broader art-historical discourse, it was refreshing to hear Goldman, as early as 1983, talk about the art being produced in the state. In fact, the very first retrospective exhibition of artists working during the Chicano Movement in New Mexico is currently in the works. This exhibition comes decades after other major exhibitions in Los Angeles and Texas (i.e. Dále Gas: An Exhibition of Contemporary Chicano Art, 1977, and Chicano Art: Resistance and Affirmation, 1990–1993 among many others).
At the time of this interview, Goldman was one of the leading art historians in the nascent field of Chicano art. Goldman discusses her gradual transition into Chicano art, or what she called "Popular Art," from her early studies and work with Latin American Modernism, specifically in Mexico. Living and working in Los Angeles, Goldman was one of the first scholars to take notice of Chicano art production in the wake of the civil rights movement and talks about her early interest and documentation. Discussing major motifs and themes in Chicano art in the southwest, Goldman reveals the extent of marginalization that Chicano artists endured nationally. She even mentions the difficulties of professionally publishing scholarship about Chicano art in the field of American art. As part of a brief visit to Albuquerque, Goldman and Chicano studies scholar Tomás Ybarra-Frausto were in the state conducting research for an upcoming project. This trip was Goldman's first thorough study of artists in New Mexico. She immediately recognized New Mexico's strong connection to visual idioms seen throughout the southwest.
Chicana Activism In New Mexico
As a movement and fight against racism and classism, leaders of the Chicano Movement were guilty of creating their own ideological barriers. Riddled with masculinist politics and hetero-patriarchal frameworks, the Chicano Movement was overtly sexist and anti-LGBTQ. In fact, it was this gender exclusion, coupled with the racism of the Women's Liberation Movement that spurred the development of Chicana Feminism. I was pleasantly surprised to come across an Espejos episode that features a leading Chicana activist working in New Mexico during El Movimiento. New Mexico's mobilization of course is typically centralized around the court battles fought by Reies López Tijerina and the Alianza Federal de Mercedes Libres (a group of local men and women primarily focused on the restoration of stolen land), but this episode evidences that Chicana activists were also a major force in the state.
In a 1986 episode, Elizabeth "Betita" Martinez was interviewed. Martinez was a critical Chicana feminist voice and leader in northern New Mexico, and worked in collaboration with López Tijerina and Alianza members. Her greatest contribution was the co-development and editing of the periodical, El Grito del Norte. This paper heavily focused on the land and water struggles in the state but also looked deeper at inequities occurring in cities like Albuquerque. Most interesting about El Grito was its desire to interweave international and national issues through oppressions of non-white communities. This episode provides fantastic insight into Martinez's recollections of working on El Grito and takes a look at her political/activist work in California.
The Struggles In Central America
The global context that Espejos often incorporated was most surprising to me. While studying at the University of New Mexico, I took various classes with Dr. Kency Cornejo, a specialist on art of Central America. With this background, I am aware that there are limited resources available for U.S. scholars of Central America. Therefore, the frequent focus on Central America in Espejos is extremely valuable. García-Camarillo adamantly conducted interviews with U.S. citizens traveling to the Northern Triangle (i.e. El Salvador, Guatemala, and Honduras) during times of civil war, assassinations, social cleanings, and brutal policing. Through Espejos, these special episodes provide firsthand accounts of the atrocities inflicting this region and is discussed through the experiences of activists and refugees living in Albuquerque.
In a 1981 interview with Deb Preusch, a member of the Coalition of Human Rights in Latin America, she reveals dire information regarding the status of two Central American countries. Preusch discusses her recent visit to Central America, specifically Nicaragua and El Salvador. In Nicaragua, the country recently assassinated its oppressive dictator Somoza and brings into focus various reform programs taking root in the country. The main part of Preusch's trip was to communicate with Salvadoreans about the still raging civil war. Entering the country, Preusch discusses the high level of anxiety and fear present in the emptied streets that were heavily guarded by military forces—clothed in both uniform and everyday clothes. Talking to local Salvadoreans was a challenge because many were fearful Preusch would turn them in or reveal them as a member or sympathizer of the guerilla. The people that did talk to her were convinced that then U.S. President Ronald Reagan and U.S. Congress were directly responsible for the war through their backing of military forces. In this interview, Preusch expands upon the actions of the Farabundo Martí National Liberation Front (FMLN), agrarian reform, and refugees fleeing the country.
Additional Featured Items
Espejos de Aztlan: Angela Delli-Santi, 1982
In this episode of Espejos de Aztlan, Cecilo García-Camarillo interviews Angela Delli-Santi who just returned from a trip to Nicaragua where the Sandinistas where overtaken. Delli-Santi has done a lot of work for Latin American communities, including being a translator for other parties visiting these countries. Delli Santi is currently working on a project focused on the military in Central America and Guatemalan refugees in Mexico. During this episode, Delli-Santi discusses U.S. participation in the oppression and murder of Guatemalens by supporting the Ríos Montt Regime.
Espejos de Aztlan: La Compañía de Teatro de Albuquerque, 1984
In this episode of Espejos de Aztlan, Cecilo García-Camarillo interviews Irene Oliver Lewis, Angie Torres, Mark Kilburn, Mark Martínez, Jose Garcia, and Cristina Garcia from La Compañía de Teatro de Albuquerque about their new play titled, "Plaza"--written by Denise Chávez from Las Cruces (New Mexico). La Compañía went international with this play and performed in New York and Scotland.
Espejos de Aztlan: Mauricio Duarte, 1981
In this episode of Espejos de Aztlan, Cecilo García-Camarillo interviews Mauricio Duarte who left El Salvador due to the civil war. Durarte is a member of Asociación General de Estudiantes Universitarios Salvadoreños (AGEUS) and was studying medicine for five years before leaving his country in exile. Duarte discusses El Frente Democrático Revolucionario (FDR) and Farabundo Martí National Liberation Front (FLMN).
Espejos de Aztlan: César Augusto Martínez, 1982
In this episode of Espejos de Aztlan, Cecilo García-Camarillo interviews Chicano visual artist, César Augusto Martínez. Martínez's art will be part of a travelling exhibition called, "Ancient Roots, New Visions," and an important exhibition at the Contemporary Arts Museum, Houston entitled, "Dále Gas: An Exhibition of Contemporary Chicano Art." Martínez gives us insight into his life and work.
Espejos de Aztlan: Juan Antonio, Salvadoreño Refugee, 1984
In this episode of Espejos de Aztlan, Cecilo García-Camarillo interviews Juan Antonio, a young refugee from El Salvador, and Judy, a Quaker who helps refugees from other countries in the Unites States. Juan Antonio discusses his experience in El Salvador and his seven-month journey to the U.S.
¹ "In the mid-1960s, a federal program analyst, starting with and extrapolating from census data, estimated that about '65,000 people, including 30,000 children, live with the 'bleak circle of poverty' in Bernalillo County, and another 30,000 people hover about its edge.' [The] areas of acute deprivation, barrios such as Martineztown, Barelas, and South Broadway. Such communities received the least satisfactory education and showed the highest dropout rates, high percentages of children from broken homes, and the like… Albuquerque barrios in fact contained the highest percentage of substandard housing, with Martineztown at 56.6. percent, North Barelas at 56 percent, South Barelas at 69.2 percent, and the San Jose area of South Broadway at about 64 percent. Many Valley Hispanics could not seriously consider the idea of buying a new home in the boom construction areas of the Heights." See, Joseph Metzgar, "Guns and Butter: Albuquerque Hispanics, 1940–1975," New Mexico Historical Review 56, no. 2 (1981): 127.
² "Activist, poet, publisher, editor, literary journalist, textual artist, script writer, radio personality, and cultural attaché, Cecilio García-Camarillo was a complete Chicano renaissance man, a gentle warrior whose cultural activism over the past quarter-century has transfigured Chicano literary culture. Cecilio has seventeen bilingual chapbooks to his credit and has created over five hundred "poemas visuales"—poster-sized frames of text swirled into rivers and patterns that graphically recall the forces that created them. He founded and edited two influential reviews, Magazín (1971–1972) and Caracol (1974–1977), which provided a forum for scores of new Chicano writers. His newsletter RAYAS (1978–1979) evolved into a weekly public radio show, "Espejos de Aztlán" (1979–present). To thousands of listeners of radio station KUNM (Albuquerque, New Mexico), Cecilio was the gentle and persuasive voice of "Espejos de Aztlán," the longest running cultural program in the station's history. But the poem was always García-Camarillo's favorite venue for the private voice of dream, nightmare, and transformation. His long-term association as a dramaturgy with "La Compañia Teatro de Alburquerque," has also earned him a place in the history of bilingual community theatre. With the enigmatic stage name of "Xilo," one of his major artistic collaborations was with "Mezcla," a group of artists and activists. Cecilio García-Camarillo was born near Laredo, Texas in 1943. He graduated from the University of Texas, Austin, and, by the 1970s, established himself as one of the premier Chicano publishers of South Texas. In 1981 he received a National Endowment for the Arts fellowship." Source: Biography courtesy of Enrique R. Lamadrid. For more information, see the "Cecilio García Camarillo Papers" at the University of New Mexico Center for Southwest Research.
³ "…Chicano poet Alurista, envisioned a homeland in the United States for Mexican Americans. Alurista … is acknowledged as the poet and scholar who first put forth the idea of Aztlán and tied it into the Chicano civil rights struggle. Aztlán is said to be the original homeland of the Aztecs, the place whence they began their migration in search of an eagle perched atop a cactus, devouring a snake (which, legend said, would be the sign showing them where to build their capital). Generally, Chicanos interpreted Aztlán to represent the southwestern states annexed by the United States after the Mexican War. The idea of Aztlán gave 'Mexican Americans a source of pride in their indigenous heritage … and transform[ed] that racial heritage into a legacy of pride. It was also Alurista's attempt to dispute the myth that Mexican Americans were solely a recent immigrant group in the United States and therefore had not contributed to the growth of the nation.'" See, Carlos Francisco Jackson, Chicana and Chicano Art: ProtestArte. The Mexican American Experience (Tucson, AZ: University of Arizona Press, 2009): 17.
Preserving a Fragile History: The New Mexico Public Media Digitization Project
An unparalleled record of New Mexico's unique history was in jeopardy of being lost forever.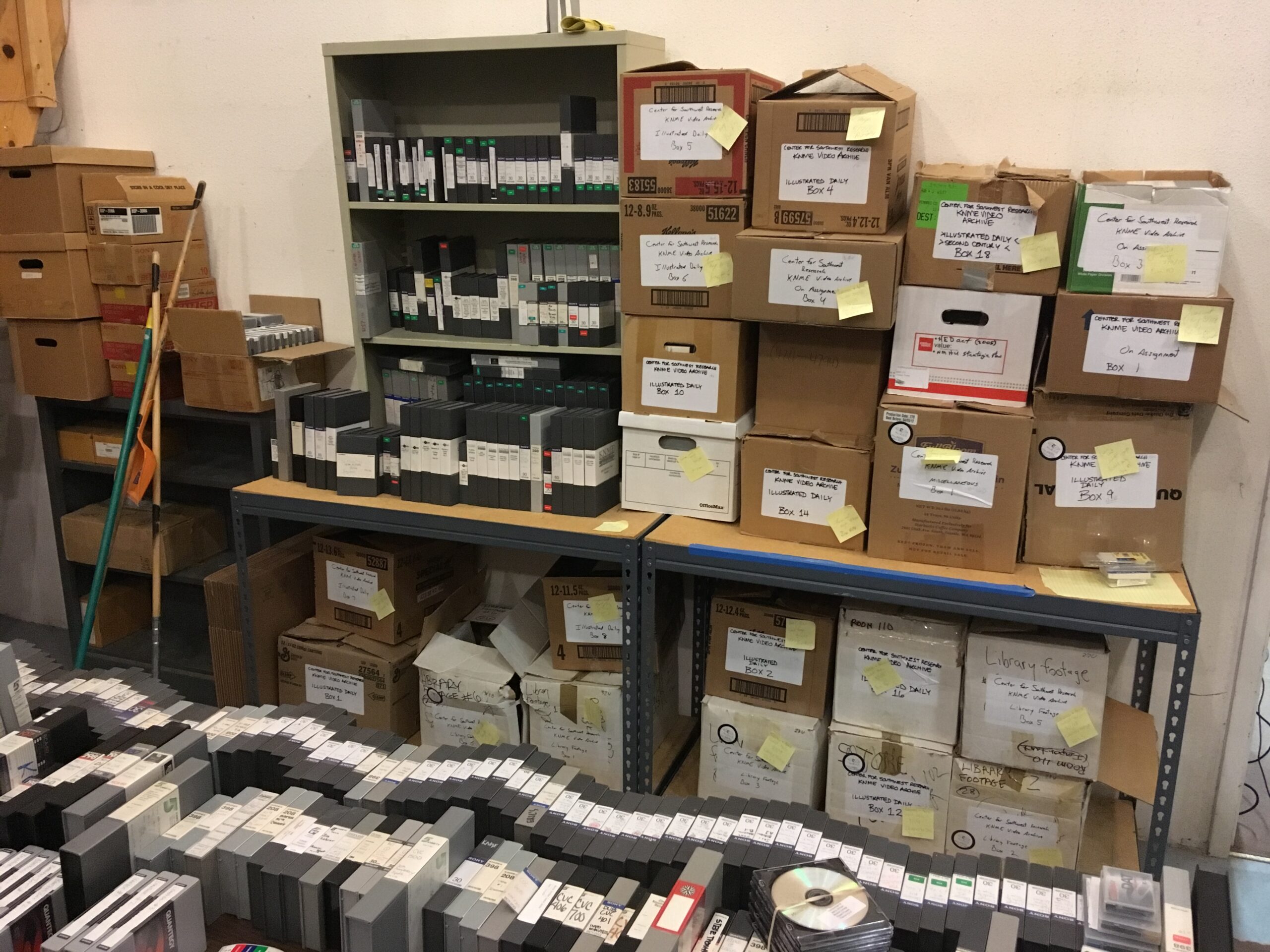 Hidden away in lofts, closets and even a men's room were hidden treasure. For decades, New Mexico public media stations stored in out-of-the-way places an amazing body of work containing unique stories of New Mexico's diverse communities. Unfortunately, many of these programs were recorded onto fragile magnetic media well past its lifespan, deteriorating more and more every year. Irreplaceable, this treasure trove of New Mexican TV and radio programs was in real danger, and stations were at a loss as to what to do. Fortunately, the American Archive of Public Broadcasting and the Council on Library and Information Resources joined with New Mexico Public Media stations to help save our fragile history!
We are incredibly excited to announce the New Mexico Public Media Digitization Project: an innovative statewide collaboration that will digitize, preserve and provide access to the collections of five leading public media stations in New Mexico: NMPBS/KNME in Albuquerque; KRWG (PBS) in southwestern New Mexico; KENW (PBS) in eastern New Mexico; KUNM (FM) at the University of New Mexico; and KANW (FM) in Albuquerque, in collaboration with David G. Griffin, Griffin and Associates.
New Mexico Public Media Stations have years of original programming that is a unique and in-depth, fascinating portrait of New Mexico's social, political, artistic and cultural life. Well represented are communities that are often underrepresented, under-resourced, and marginalized, like New Mexico's large Indigenous and Hispanic communities. This collection contains in-depth coverage of New Mexico news, elections, science, health, medicine, arts and humanities television and radio programming from 1970-2020. These programs include KUNM's Spanish language radio program "Espejos de Aztlan", award winning and long running series like NMPBS' "¡COLORES!" and "New Mexico in Focus", KENW's "Report from Santa Fe", and KRWG's "Aggie Almanac", groundbreaking documentaries like NMPBS' "Monuments to Failure", "Above and Beyond", and the original one-inch master reels of "Surviving Columbus"- which won the 1992 George Foster Peabody. Also included are the original field interviews recorded during the production of "Surviving Columbus", which are an extraordinary archive of Pueblo voices.
Sample clips of the NMPBS collection
For decades, NM Public media stations recorded programs onto broadcast formats that have fallen by the wayside as technology advanced. These programs exist on obsolete and deteriorating video and audio formats that are no longer produced, like one-inch video reels, U-matics, Betacam, MiniDVs, ¼ inch audio reels, and audiocassettes. Making it even more challenging is to find a working machine to play them, let alone having the technical know-how to maintain them.
Fortunately, in 2018 New Mexico PBS (NMPBS) was introduced to the American Archive of Public Broadcasting (AAPB) and their incredible work collecting and preserving public television and radio programs from across the country, making them available in one place, free online. We were delighted when they offered to partner with us on a statewide digitization project, one of the first of its kind. With a ground swell of statewide and national support, in 2019 we applied and received a generous grant from the Council on Library and Information Resources (CLIR) to preserve these materials and give them a new life in the public domain.
In July 2020, the project began in earnest with the hiring of the NMPBS Archivist, Megan Rose Kilidjian. The next seven months were spent inventorying, organizing, and packing video and audio tapes from public radio and television stations across New Mexico. All of the stations' tapes were brought to NMPBS in Albuquerque (the base of operations for the project) and on March 1st, 2021, eight pallets of NMPBS materials were shipped out for digitization!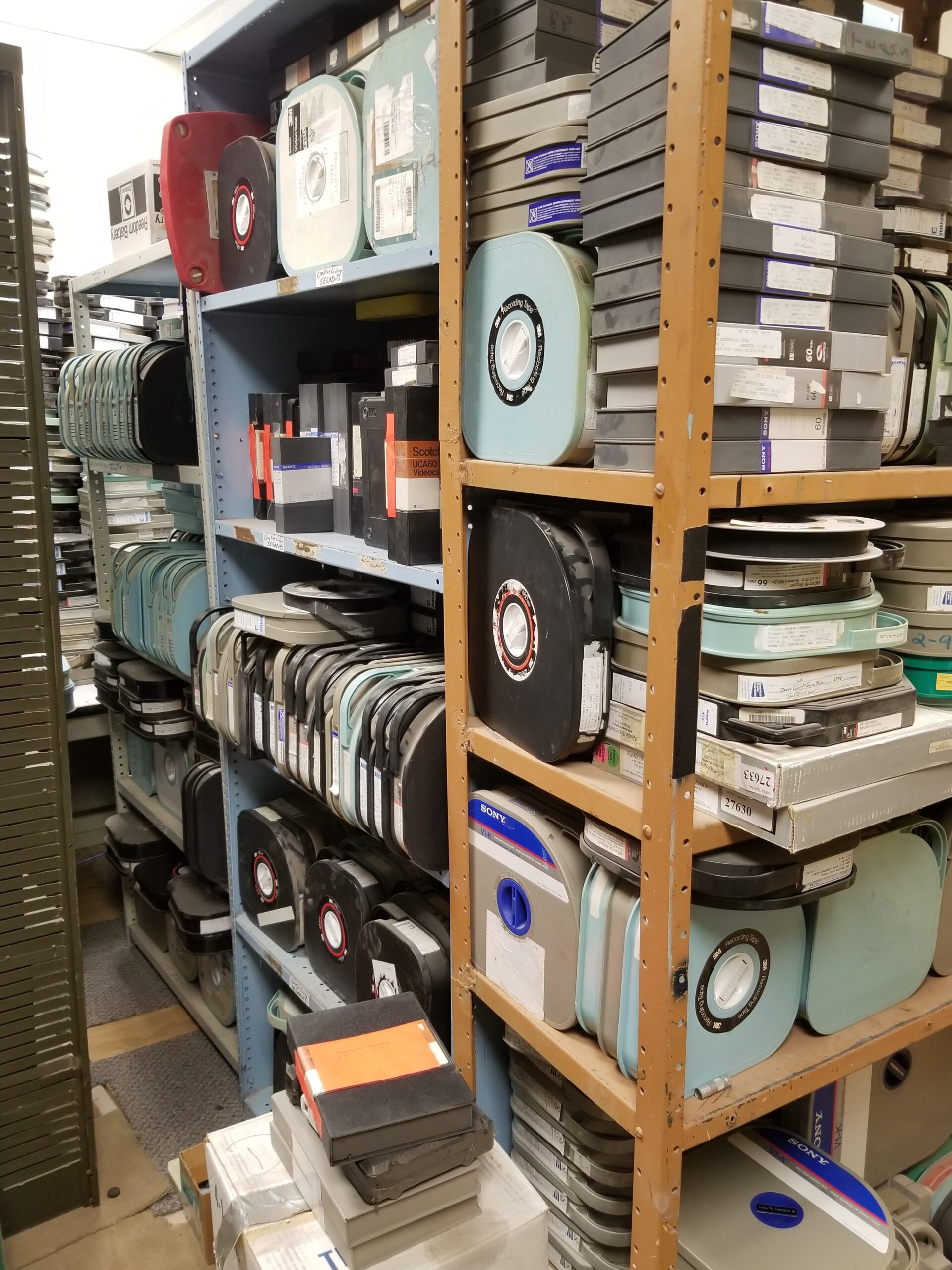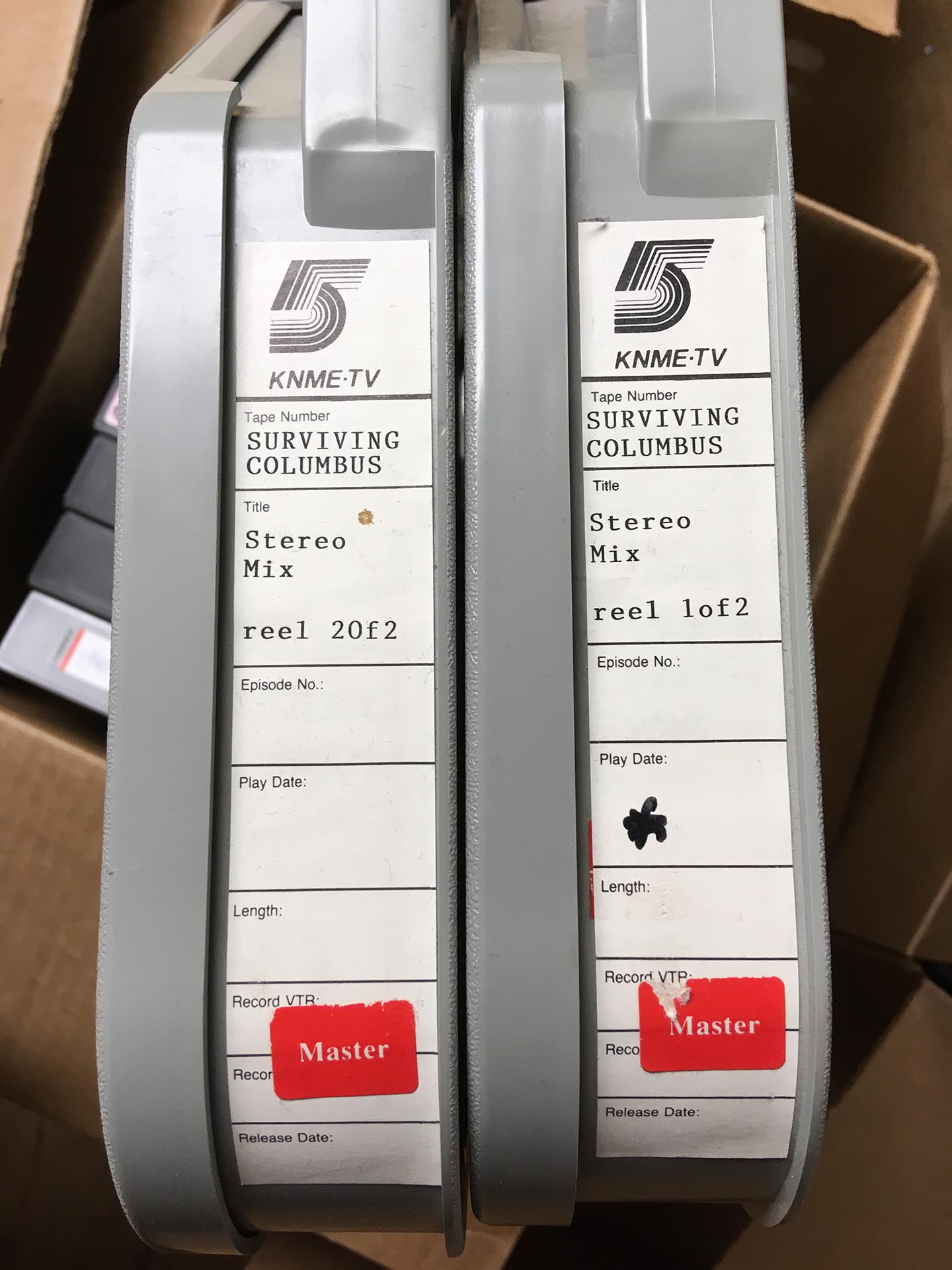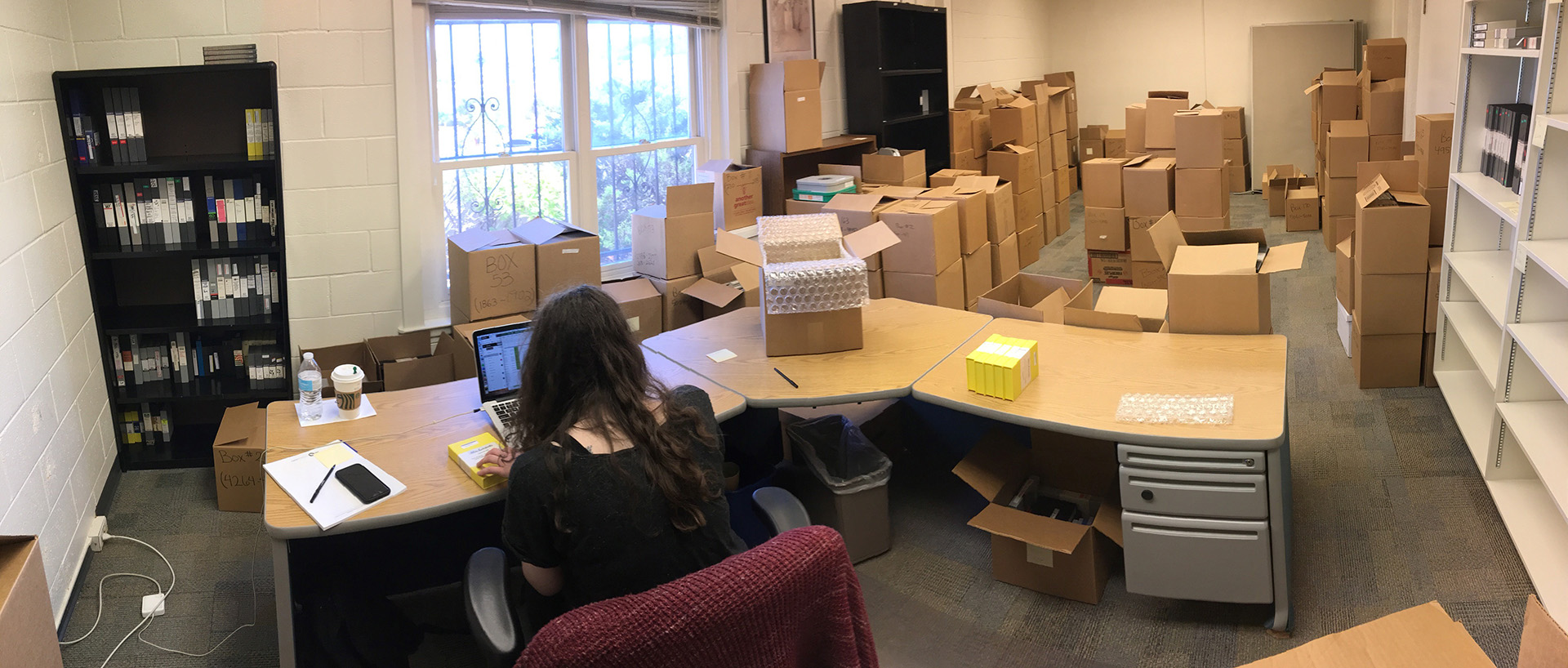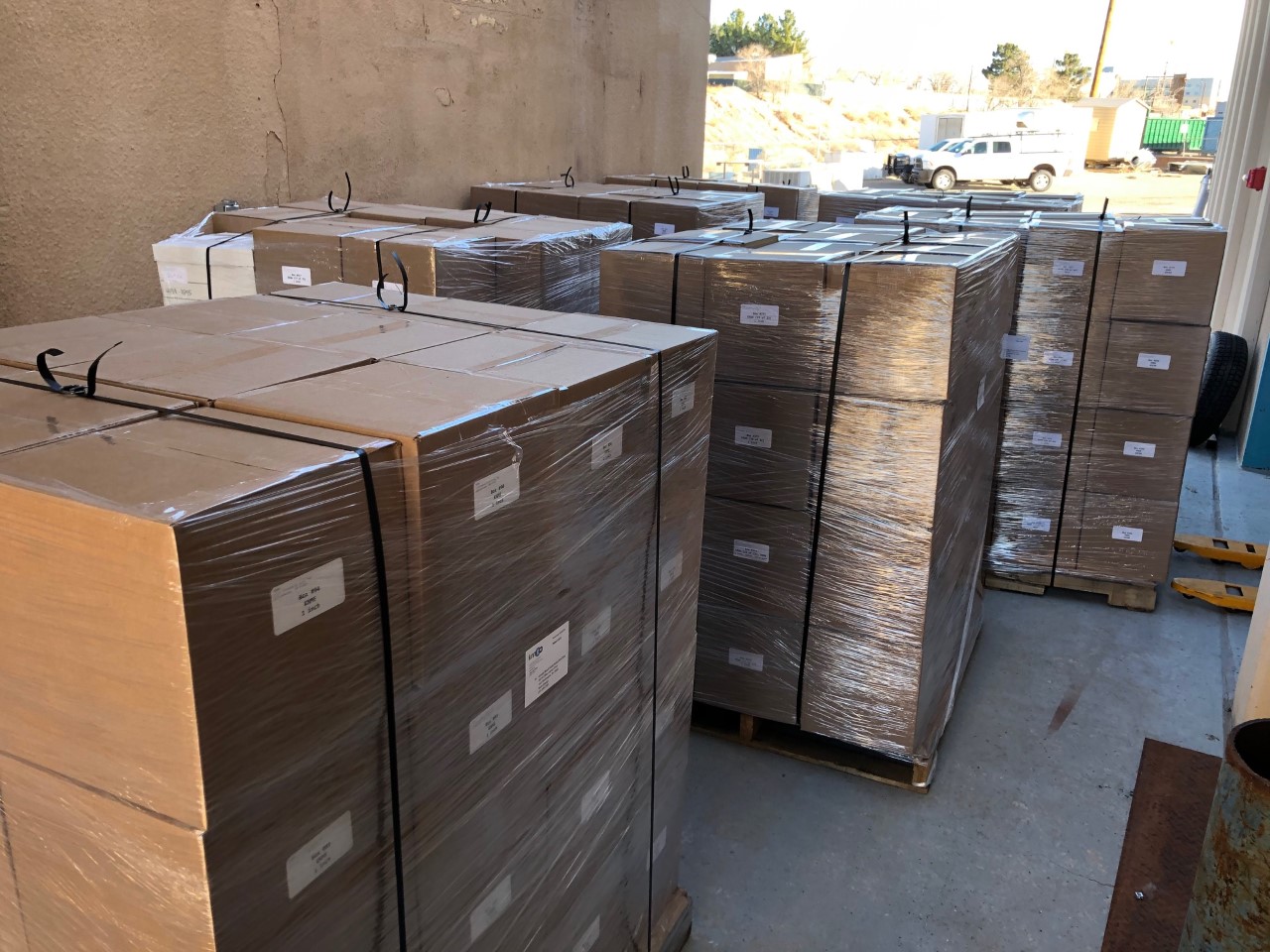 During the next phase of the project, we will be cataloging the digitized files so that they can be posted on the AAPB Online Reading Room for public access and use.
NMPBS Digitization Project team
New Mexico PBS General Manager and CEO Franz Joachim along with NMPBS Executive Producer for Arts and Cultural Affairs Michael Kamins formed the partnership with the American Archive of Public Broadcasting, New Mexico Public Media partners and secured the funding for the project. Each has over 30 years of PBS experience.
"Public television station video archives are an essential record for our communities. Reaching beyond the headlines into the heart of communities, this video record touches on the essential nature of our towns and the people we serve. But the cost of converting these archives to formats that will last over time is beyond the reach of many of us. I'm thrilled that CLIR saw fit to make this possible." - Franz Joachim.
"What a relief! New Mexico truly is an extraordinary place. I am thrilled to be able to preserve and share the amazing voices and stories found in our respective archives. They will not be lost to time." - Michael Kamins.
American Archive of Public Broadcasting Project Manager: Casey Davis-Kaufman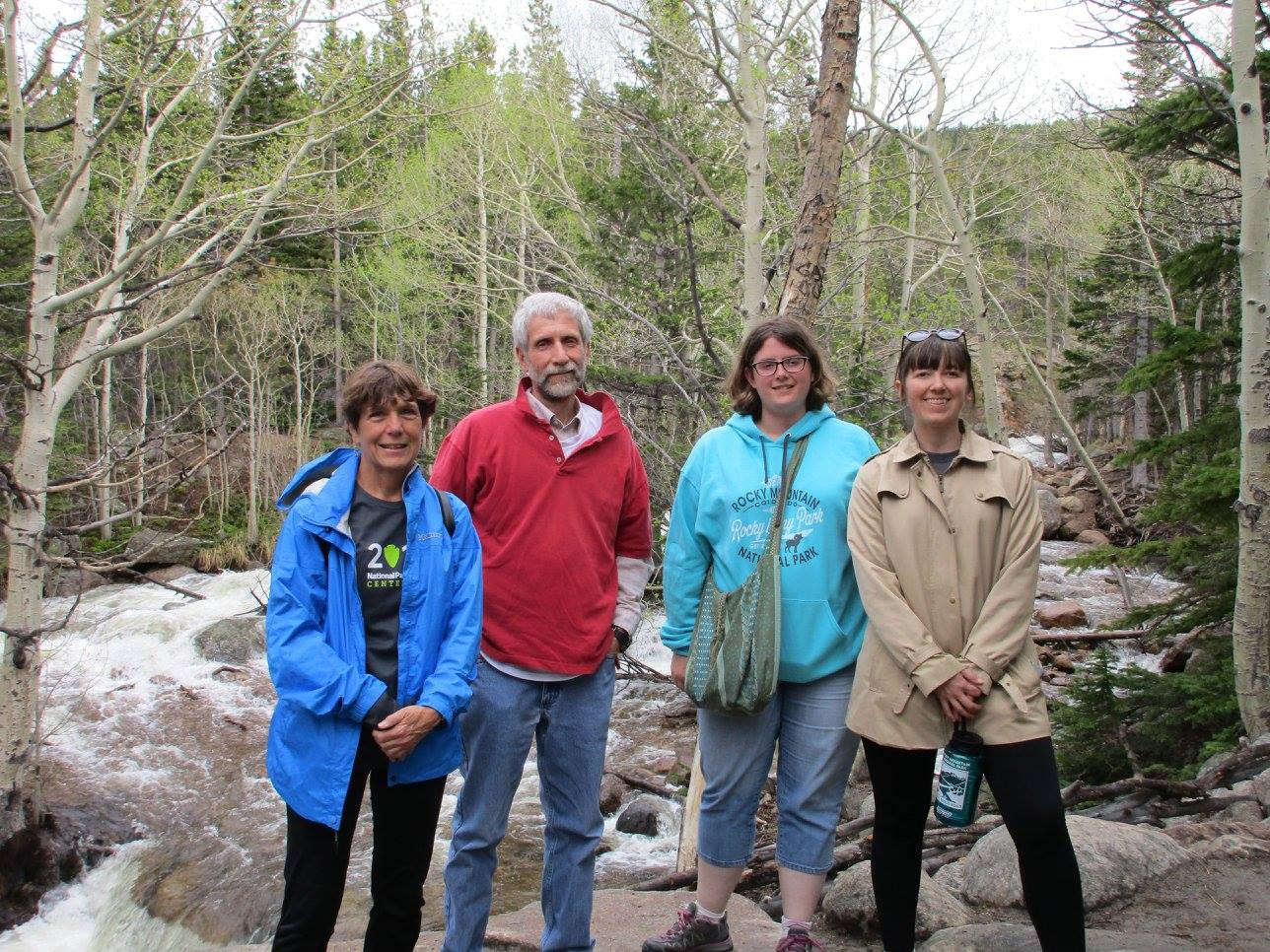 Prior to this project, the AAPB lacked any public television or radio content documenting the unique histories, cultures and landscapes of New Mexico, and Casey Davis Kaufman (she/her), Associate Director of the GBH Archives and Project Manager for the American Archive of Public Broadcasting, is thrilled that the NMPM Digitization Project will fill these critical gaps in the archive. As Project Manager for the AAPB since 2013, Casey has managed the digitization of more than 110,000 historic public broadcasting programs from stations and communities across the U.S. She is actively involved in the Association of Moving Image Archivists, having served on its Board of Directors from 2017-2019, and she also currently serves as the oral history producer for the "Rising from the Ashes: Chimney Tops II Wildfires Oral History Project" at University of Tennessee Libraries.
Casey will be working closely with the rest of the AAPB team on this project, including Miranda Villesvik (GBH), Karen Cariani (GBH), Rachel Curtis (Library of Congress), and Alan Gevinson (Library of Congress).
Archivist and Project Manager: Megan Rose Kilidjian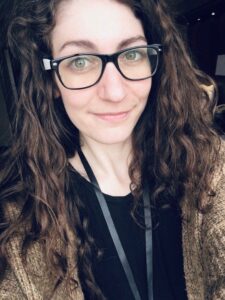 "Moving to Albuquerque in the middle of a pandemic was well worth it for the opportunity to contribute to this exciting project, help give new life to programs that may otherwise be forgotten, and highlight the value these audiovisual materials can add to our communities." Megan Rose received her Master of Library and Information Science with a concentration in Archives Management from Simmons University before working as an Audiovisual Preservation Project Manager. She has a passion for all things moving image, having studied film at the University of Memphis and Massey University of New Zealand, and found a way to combine that with her love of preservation while studying moving image archives at Simmons.
Project Fellow: David Saiz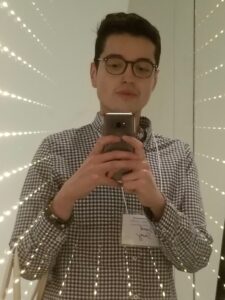 "As someone who studies U.S. art and visual culture through media that is printed, painted, sculpted, or photographed, I saw this project as an opportunity to expand the scope of my visual cultural interests with magnetic and recorded media formats becoming new territory to better understand New Mexico and, more broadly, the 'American' experience." David is a graduate student in The University of New Mexico's Department of Art History pursuing a Master's in Art History and Minor in Museum Studies, focusing on U.S. art from the nineteenth century to the present, Latina/o/x art, and New Mexican art and history. He is also working as research assistant with the UNM Art Museum and is planning to pursue a PhD in Art History, working toward a career as an art museum curator.
Project Fellow: Rachel Snow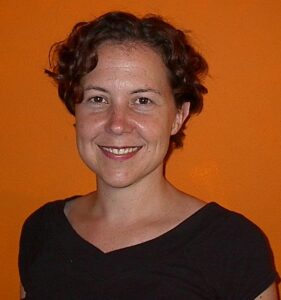 "Working on this project means preserving vulnerable historical materials and greatly enhancing their use and accessibility. I believe this digitization effort will enhance our understanding of New Mexico and beyond." Rachel holds a doctoral degree in Art History from the City University of New York Graduate Center with a research specialization in the History of Photography. She is currently a graduate student in the Museum Studies Program at The University of New Mexico and is also working as a Research Fellow at the Center for Southwest Research digitizing and cataloging hundreds of negatives in the University of New Mexico's Photographic Services Collection.
Stay tuned for additional updates on the project and newly digitized collections!